Fall Forward
Fall is a busy time for everyone. Back to life, back to reality. It's a particularly busy time for us at Images & Details, as on top of the many fun activities we have going on with our current clients, we've also recently added a great new group of businesses to our roster.
---
We're also so pleased to now be working with the lovely Renae Cohen, of Westchester-based Renae Cohen Interiors. Renae's mantra is one of "functional design" – a native of the Midwest, Renae insists that her projects be as user-friendly for her clients as they are beautiful. Renae's elegant, sophisticated aesthetic (she has a background in antiques) will be on view at the 2015 Rooms with a View in Southport, the venerated showcase for interiors talent started by Albert Hadley and currently curated by Thom Filicia.
AND … (we told you it was busy around here!), Images & Details will work with Barclay Butera at High Point Market on the launch of Landon, his new Eastern Accents collection. Together, we will be hosting an exclusive preview down at High Point, followed by a signing of Barclay's new book. Fresh and on-trend, we think Landon will be popping up everywhere this fall.
More locally, we've really enjoyed working with our clients George Snead at Wakefield Design Center and Carey Karlan of Last Detail on the Showhouse on the Green in Fairfield. The result of the efforts of 20 top interior designers and decorative artists, the Showhouse is open for 5 weeks from September 19 through October 25, and Connecticut Cottages and Gardens is media sponsor.
So while the leaves may be falling down, it's onward and upward at Images & Details!
Notify me when a new blog has been published.
Out of Office
Images and Details is all about experiences.  Most recently, we had a glorious road trip to visit Peter Fasano's studio in Great Barrington, MA where we got to see where the magic happens.   On this picture perfect summer day, Tori Mellott of Traditional Home was joined by designers Lynn Morgan and Regan Hayes along with our PR gal pal Cristina Juarez.
Peter's newest passion is antique wooden blocks.  We saw how a single image was transformed into an overall pattern.  It was a whirl wind of learning — from how screens are made, to watching colors being calculated, to seeing fabric being printed and dried.
Paint cans galore labeled with the Who's Who of the design world were stacked in a row.
After the tour we went for a lovely al frescoe lunch at Elizabeth and Peter's home. Farm to table simplicity at its best.  Yummy salads, fresh baked breads and delish local desserts.    On our return we stopped at a few antique shops and ran into our fellow travelers.  A great way to be inspired.
Notify me when a new blog has been published.
Summer Soirée
We New Englanders deserve our lovely, breezy summers – they're our gift for enduring the cold months.  At Images & Details we think that you can't celebrate the season enough.  To that end, our "Commander-in-Chief" Beth Dempsey hosted a soirée at her home during the last weekend in June, and guests congregated on the veranda, with yummy appetizers, frozen lime cocktails and plenty of rosé wine.  We asked some party-goers for their thoughts on summer: tips, favorites & inspirations.  Here's what they said:
Carolyn Sollis Favorite Summer Vacation Spot: Fenwick CT, where the CT River meets Long Island Sound – I have spent summers there my entire life. Signature Summer Dish: Blueberry Kir Sauce Great Beach Read: This summer I plan to read Z: A Novel of Zelda Fitzgerald and All the Light We Cannot See by Anthony Doerr.
Stacey Bewkes Favorite Summer Vacation Spot: No surprise there – Nantucket! Signature Summer Dish: We eat very simply in the summer – whatever is fresh and hopefully local. So while on Nantucket that means grilled, just-caught swordfish, steamed local lobster, fresh Nantucket corn and lots of easy green salads in my big seasoned wooden bowl. Great Beach Read: I am currently reading Elizabeth Gilbert's The Signature of All Things which was recommended by Susanna Salk and Laura Slatkin (the cover inspired her new NEST fragrance, Verde. Favorite Summer Cocktail: Like everyone else, I am drinking a lot of rosé this summer (I just did a post about good rosés!)
KC Williams Favorite Summer Vacation Spot: Little Compton, RI (where else?) Great Beach Read: Leaving Before the Rains Come, by Alexandra Fuller. I've read all of her previous books about her childhood growing up in Zimbabwe, and they portray a life that's quite foreign to our world. Favorite Summer Cocktail: I have many but I especially like Dark & Stormy's.
Melissa Feldman Favorite Summer Vacation Spot: Sailing around the Turkish Mediterranean was the best vacation I've ever had! Great Beach Read: I love, love, love Jonathan Franzen, so I'm waiting his next novel, Purity, to come out later this summer. Also The Last Love Song a new biography on writer Joan Didion. Favorite Summer Cocktail: Naturally a negroni, but only made with dry vermouth.
Carey Karlan Favorite Summer Vacation Spot: I'm happy to stay-cation right here in Darien in the summer! You could travel a long way and not find a more beautiful spot than the terrace overlooking the sound at the beach club at twilight. Spending unhurried time with friends and family in that familiar and beautiful spot is my bliss for summer. Favorite Summer Meal: I love to set up a fancy picnic complete with flowers, cold salmon with tasty salads and a fresh peach cobbler! Favorite Summer Cocktail: A nice bottle of Sancerre.
Notify me when a new blog has been published.
Architectural Digest's Bronson Van Wyck and Designer Celerie Kemble at Michael C. Fina
Images & Details recently teamed up with a dynamic duo – Architectural Digest special projects editor and event planner extraordinaire Bronson Van Wyck, and superstar designer Celerie Kemble – to kick off the summer entertaining season at the Michael C. Fina New York flagship. The event was co-hosted by Architectural Digest and featured four gorgeous tablescapes with pieces pulled from Michael C. Fina's tabletop collection. Guests enjoyed summer sips as they conversed and admired the vignettes.
Each table was inspired by a different part of the world; some inspired by travels and others simply by color and pattern.
The first table, dubbed "Sundowners on a Serengeti Plane," was inspired by a trip to Africa the design duo had taken a few years back. The table included a leopard perched on top of a pile of antlers to really give onlookers an animalistic feeling.
The second table called, The Rug Merchant's Banquet, first inspired by bold colors, evolved into an Eastern masterpiece complete with elaborate fabrics and Hermès Voyage en Ikat printed porcelain.
"Picnicking after the Beaufort Hunt" channeled aristocratic English "mismatched chic," with a table featuring a delightful patchwork of Royal Crown Derby patterns and textures … and even a taxidermy fox.
The last tablescape, Midnight in Mississippi, was inspired by Wyck's southern roots. The Nymphenburg fish platters  transported Wyck to his past, reminding him of youthful summer nights. Baccarat red stemware and l'Objet place card holders  were the final touch, adding a dab of southern elegance to the beautiful table.
Notify me when a new blog has been published.
At this year's LCDQ, Images & Details brought together five of LA's top interior designers, Jamie Bush, Amy Meier, Christo Prevazanos and Todd Nickey & Amy Kehoe for a roundtable discussion of their custom fabric collaborations with our client Peter Fasano, hosted by Domino editor Robert Leleux at the new Hollywood at Home showroom.
The west coast-based designers shared the inspiration behind their individual patterns and what it was like to work hands-on with a guru like Fasano, who has been creating fabrics and textiles for over 30 years. Guests were able to examine the custom fabrics close-up, which provided a distilled version of each of the designer's personal styles.
A slide show, created by Fasano about his 30 years in fabrics and textiles, played to laughs and gasps from the audience, and afterwards he talked about the satisfaction he feels in helping these talented artists bring their visions to life in a medium so integral to the creation of a room's aesthetic. The designers agreed that although challenging at times, the rewarding experience allowed them to capture their personal style in a new and different way.
Notify me when a new blog has been published.
Images and Details recently organized one of our favorite regular events: the Wakefield Design Center To the Trade Only Market Day! Twice yearly, we gather a collection of the top names in the business at the Stamford showroom for the benefit of Connecticut interior designers, and like the best interior design, it's always a fun and functional experience.
The fabulous Jamie Drake kicked off the day, discussing the process behind adapting his interior design aesthetic into product, from inspiration to final project. Those who were there will never forget the slides Jamie showed us of renderings he had completed as a child – he was clearly born to be a designer!
Next, top finishes brand Farrow & Ball hosted a conversation with 3rd generation designer Elizabeth Pyne of McMillen Interiors, discussing color and pattern. Popular blogger and designer Erin Gates then did a Q&A with Stacy Kunstel (of New England Home as well as Dunes and Duchess) on Social Media Savvy. (Just a quick aside here to congratulate Erin on her newly-announced pregnancy!)
Of course, the current design moment is owned by Kips Bay, so we were thrilled to have Steven Stolman, author of 40 Years of Fabulous: The Kips Bay Decorator Showhouse, there to host a panel with Kips Bay participants John Douglas Eason, Harry Heismann and Charles Pavarini III. These darling designers also did a book signing after their talk; it occurred to Images & Details that a copy of the book having been signed by all of the participating decorators, would make a killer holiday gift!
Wrapping things up, the amazing Anne Maxwell Foster and Suysel dePedro Cunningham of Tilton Fenwick discussed the role networking played in the growth of their business, from conception to their Duralee Designer fabric collection, with Kyle Hopener of New England Home.
Many, many thanks to Farrow & Ball for sponsoring lunch. We look forward to seeing you in the fall!
Notify me when a new blog has been published.
Images & Details client Peter Fasano is known for designing and creating extraordinary hand-screened and hand blocked home textiles, but many designers have been unaware that Peter can collaborate with them to turn their vision into a one-of-a-kind custom fabric. So we gathered four of the most inspired emerging designer stars in America, brought them to Peter's studio in Great Barrington, Massachusetts, phoned our friend the talented editor Orli Ben-Dor, and the result is the striking and beautiful "The Best" column in this month's House Beautiful magazine. These fabrics by Young Huh, Sarah Gilbane Sullivan, Patrick Mele and Garrow Kedigian are now offered in Peter's line as well. We also tied in an event with designers at the D&D Building to launch the fabrics and spread the word to designers that any motif they've been wishing they could craft into fabric is now a possibility.
Notify me when a new blog has been published.
We are pleased to announce our agency relationship with luxury retailer Michael C. Fina. Journalists: please contact beth@imagesanddetails.com or dana@imagesanddetails.com for your holiday gift guides, tabletop and entertaining stories, jewelry and timepieces, or anything Michael C. Fina. Stay tuned for lots of exciting news on this wonderful brand.
Notify me when a new blog has been published.
For the past five years, Images & Details has conceptualized and overseen the production and press for one of metro New York's most successful charity events, the RED CROSS Red and White Ball . We take over the Net Jets hangar and in 24 hours reimagine it as a design lover's Shangri-La. It's one of our favorite events and this year was the best yet—40 leading designers creating one-of-a-kind tablescapes for 500 guests to enjoy over dinner and dancing. This year's event was co-chaired by world-renowned designer Mary McDonald of Bravo's Million Dollar Decorator. That's Mary looking glam, below center with Giovanna Miller and Mary Young. Nearly $1 million was raised for the Red Cross, a charity we love to support as we know they are always there for us.
Carey Karlan's table was transportive. Inspired by the Jardin de Luxembourg, it came complete with cherub statuary by Pennoyer Newman and almost indecently luxurious platinum petaled plates by L'Objet. The best part of this table, though, was Carey's unabashed celebration of something from nature, the divine yet fleeting peony. She served up a single, extravagant fuchsia bloom at each place, floating in a silver champagne coupe. So simple. So swoony. So superb. So Parisian.
With charming themes of leaves and hearts and heart-shaped leaves, interior designer Francine Gardner of Interieurs created this glittering table using china, crystal and flatware in various tones of gold and anchored her vision with a custom tablecloth of fabric hand-blocked by legendary fabric designer Peter Fasano.
Peter Fasano's own table, which he co-created with designer Ondine Karady featured a whimsical Lego red cross "sculpture", complete with little Lego Red Cross workers, a Lego Red Cross ambulance and helicopter. The very pretty red and white napkins on Peter's table were made of hand-screened fabric by Elizabeth Hamilton. The overall effect was charming, ebullient and celebratory of an organization that does so much for so many.
Designer Darrin Varden's "Ripple Effect" table represented how the good deeds of the Red Cross can spread across a community following a disaster. He centered a gloss-lacquered red cross on a custom tray with red sand raked in concentric circles Zen-garden style, echoed by the circles in the tablecloth. Each guest received a miniature Zen sand garden complete with rake and a heart to place in the center filled with the message "Your heart may seem to be one drop in a sea of humanity, but its intention can be felt throughout the world. Thank you for your generosity."
Jeweler extraordinare Simon Teakle, who was also the evening's auctioneer, had a table that was widely touted as one of the most clever and sophisticated. A silver model of an R.A.F. F.E.2B plane, Hallmarked in London in 1917-18 by Edward Dime, soared above guests, who were invited to "enjoy the parachute gift" – the undisclosed treats were in jewelry boxes suspended from "parachutes" of billowy, white hydrangea blooms. The crowning touch was Mr. Teakle's take on napkin-folding, in which white napkins were fashioned into classic nurse's-hats.
So many more lovely tables were on display, and we are very grateful to all of the designers and design brands that made this magical evening possible. Everyone seemed to have a wonderful time, including, left to right, below designer Darrin Varden with event co-chairs Liz Boutry and Jennifer Madrid:
Some photos in this post were generously shared with us by Quintessence.
Notify me when a new blog has been published.
From Paris to Palm Beach, the past and present collide, bringing inspiration from the 1960s to design aficionados on both sides of the pond.  On a recent trip to
Paris Deco Off 
this was apparent in showrooms, salons and galleries. Pierre Frey opened its archives for the first time, to celebrate a collection of archival inspired prints by designer Vincent Darré, (shown above) and it was like being a kid in a very groovy candy store.
From there, a visit to the Cartier Exhibition at the
Grand Palais
proved a feast for 
the eyes. I was amazed at how many American Beauties, from Elizabeth Taylor and Grace Kelly to Lee Merriweather Post, were fans. And yes, that proverbial cat, the panther, came to life on brooches, bracelets and necklaces .
The '60s seemed to be a common thread throughout the journey – from fabrics to jewelry to fashion. At a dinner at the Alcazar in St.Germain my circa late sixties vintage Mondrian-style dress fit right in with a groovy and eclectic assortment of editors and style makers from
Avery Boardman
President and man-about-town Dennis Scully to new
Oscar de la Renta Home
Creative Director Carolina Irving.
French Artist extraordinaire
Philippe Berry
was also at dinner. His art (such as the famous
Trois Beaux Ballons
sculpture, below) and furniture-as-art (such as the Giaccometti-inspired bronze cocktail tables as seen grouped dramatically in
ELLE Décor
, below) exude a lot of sixties-ish influences: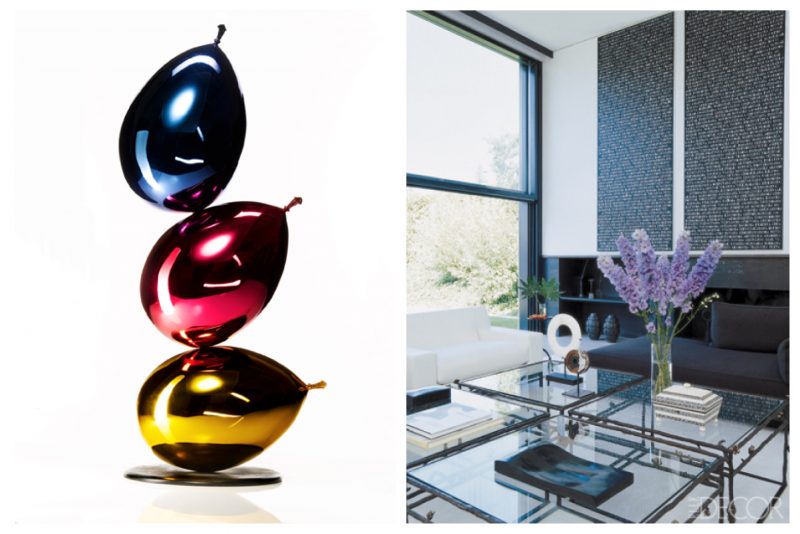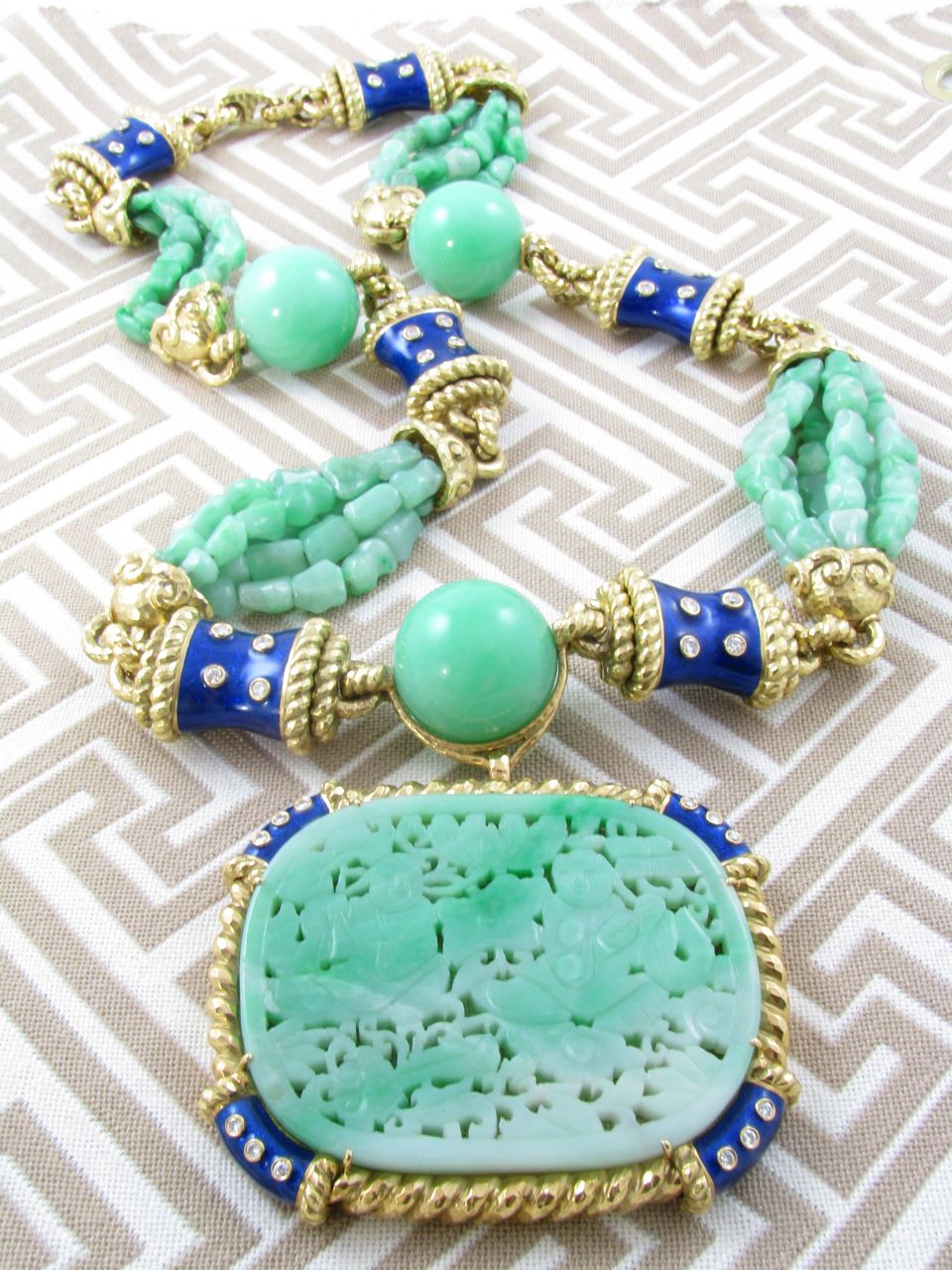 Of course I can never have enough vintage jewelry inspiration, so we popped over to one of my favorite museums 
The Norton Museum of Art
 which is nearby the show. It is small and manageable with consistently great special exhibitions. This time there was 
David Webb: Society's Jeweler
 featuring his masterful jewelry (all made in America) worn by so many stylish women in the 60's. These pieces graced the swanlike necks and slender wrists of legends including Jacqueline Kennedy, Doris Duke and Diana Vreeland.  I'd forgotten how much editorial space magazines gave to jewelry in the 1960s. Here's a taste of what we saw. I imagined others who saw this exhibit running over to Camilla's spot at the show to scoop up some great pieces.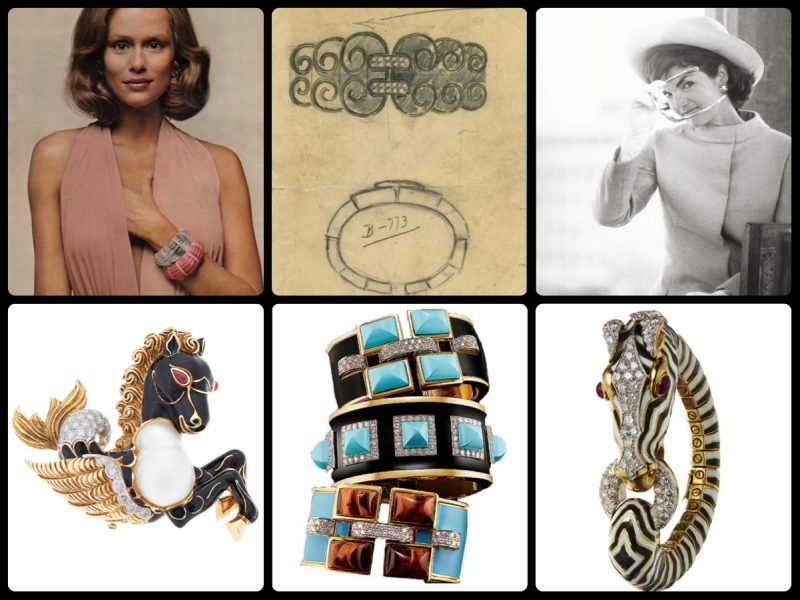 Back at the Show, at 
Cavalier Galleries
, Ron Cavalier had so much coolness from the era, including one of the last copies of 
Taschen's
 beautiful Beatles limited edition boxed sets of "those" photos by the extraordinary Harry Benson. There were even 1965 Rolls Royce parts reconfigured to be coffee tables and wall art – the ultimate in recycling.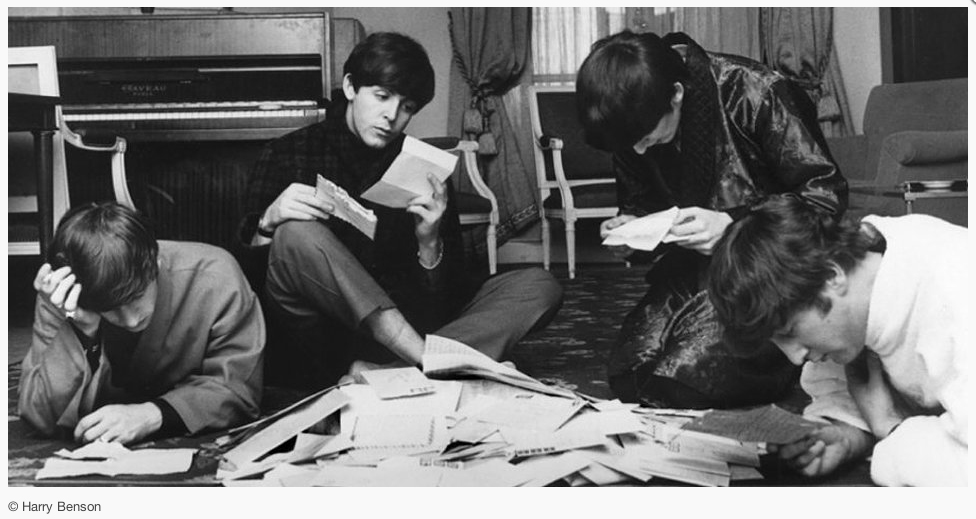 Bringing things full circle things full circle, back at the Norton, we adored To Jane, Love Andy: Warhol's First Superstar where that icon of the '60s, Jane Holzer the muse/fashionista turned up everywhere from magazines to movies, and yes, she still lives in Palm Beach!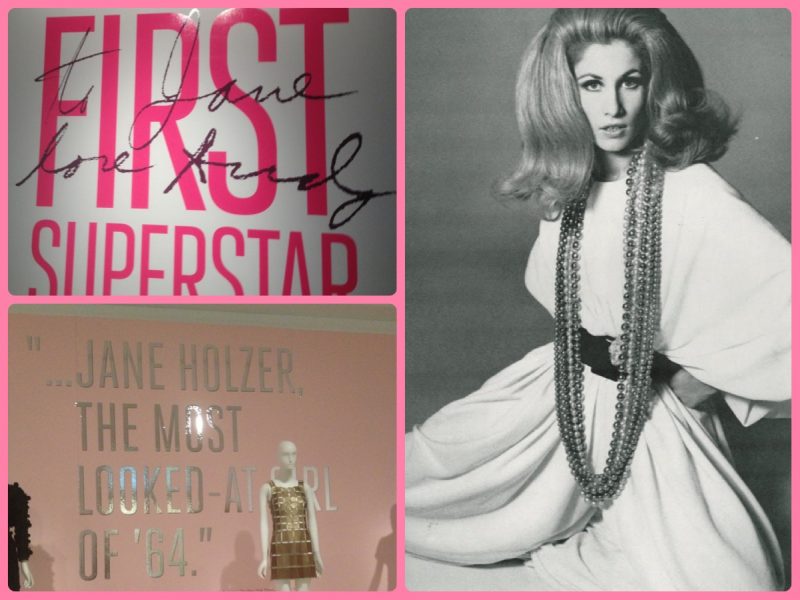 Fittingly, we finished the day of with a piano performance piece by John Cage called 4'33" where you sit silently for 4-plus minutes and the audience
ambiance creates the piece.
If that isn't something from the 1960s, nothing is. Hope you enjoyed. – Beth
Photos in this post: Taschen.com, CBSnews.com, interior design.net, architectural digest.com,  Beth Dempsey, Camilla Dietz Bergeron, ELLE Decor, Philippe Berry.
Notify me when a new blog has been published.
We're very excited to welcome our two newest clients:
 AKDO:  Stone and Tile One of the tile industry's insider secrets up until now is AKDO. Importers and distributors of some of the world's most exceptional natural stone and tile, AKDO has been a force in the stone and tile industry for two decades. Simply put, they offer (literally) tons of beautiful stone, and their newer additions of gorgeous glass, porcelain and ceramics are exceptionally artful and nuanced. AKDO's global resources and nationwide distribution to over 800 to-the trade tile showrooms across the country allow them to offer the finest quality stone, tile, mosaics, and slabs with a broad range of stocked colors and patterns as well as impressive custom capabilities.
 PETER FASANO LTD / ELIZABETH HAMILTON COLLECTION: Fabrics and Wall Coverings For over 30 years, Peter Fasano has been crafting hand silk screened, hand painted fabrics and wall coverings in an eclectic mix of designs from his eco-friendly studio in Massachusetts. In 2010 Peter's wife and business partner for the past 30 years, Elizabeth Hamilton, debuted her own collection of textiles. While Peter's designs are bold prints and bright colors, the Elizabeth Hamilton Collection focuses more on traditional patterns using the tones of plant dyes and patterns found in nature — simple and elegant. Linen, hemp, cottons and silks are the soft textiles of choice. Their products are offered in 19 showrooms in 13 states as well as in Australia and London. Custom commissions from top designers and passionate design enthusiasts are a specialty of these artisanal creators. The designs have been used in residential, hospitality and commercial projects including works specifically for Frank Sinatra, the White House and Camp David to name just a few.
Notify me when a new blog has been published.
The December issue of Connecticut Cottages & Gardens featured our client, interior designer Carey Karlan, and her home with its beautiful halls fully decked in holiday decor on the cover plus and 8-page spread. We found it inspiring. Hope you do as well:
Notify me when a new blog has been published.
We admit it – we're fashionistas, and we love all of the fashion titles, but lately we especially ♥ the editors at ELLE. Why? Because they've been creating some beautiful pages that include one of our clients, Camilla Dietz Bergeron, whose prestigious estate jewelry collections we've been representing for more than 20 years. Here's a sampling:
Notify me when a new blog has been published.
Two of the four pillars of measuring brand equity (the actual value of your brand) are awareness and esteem. Being featured editorially, especially on a cover, builds both. We're pleased to present this roundup of our fabulous clients featured on the covers of world class publications.
Notify me when a new blog has been published.
This year's Holiday House featured many great and talented designers and friends of Images & Details. It raised over $500,000 for a great cause, too. Our client Rachel Laxer brought her extraordinary taste and imagination to Holiday House this year with a room themed around Valentine's Day. Our friend Stacey Bewkes of the fabulous Quintessence blog wrote a lovely 3-part piece on the art installations in the house, including Rachel's, and the room design has also already been featured on Forbes.com and Houzz.com, among others.
Notify me when a new blog has been published.